Create the Ideal Treatment Plan with Greater Patient
Engagement
OraQ™ harnesses advanced AI to optimize dental practice production: identifying missed treatment opportunities while expanding patient understanding and buy-in.
Our AI clinical decision support system empowers dentists to take a larger role in patient health – and equip patients to take active ownership of their care.
Dental Team Portal
Login to review patient history, x-rays and imagery. View OraQ™'s treatment recommendations and add your own.
Office Management Portal
Review treatment plans and data to guide insurance submissions, quoting, recall and more.
Patient Portal
Patients can view everything in one spot: imaging, appointments, recommended treatment plans and associated costs.
Data Drives Informed Decisions – For Dentists & Patients
OraQ™'s AI and Machine Learning platform captures vital data from your patient and thousands of others in the OraQ™ database to develop the ideal treatment strategy. OraQ™:
Calculates Which treatments have the greatest probability of success.
Correlates Data and evidence to identify missed treatment opportunities.
Identifies Possible repercussions if a treatment plan is not followed.
For Dentists:
OraQ™'s evidence-based approach helps dentists and practices:
Reduce the time required to devise a comprehensive strategy.
Leverage AI to identify treatments with the greatest probability of success.
Identify correlated conditions that are often overlooked.
Develop greater treatment strategy alignment between a practice's dentists.
Increase conversion/acceptance of high-value treatments.
Expand your knowledge of the most effective strategies.
For Patients:
One of the greatest obstacles to patient conversion/acceptance is the fact they are asked to simply take a dentist's word for it. OraQ™ backs recommendations with data to explain why this treatment strategy is in the patient's best interests. OraQ™:
Supports treatment recommendations with data and facts.
Reveals potential consequences if treatment is delayed.
Increases transparency and trust with dentists.
Engages patients and provides clearer understanding.
Improves the overall patient experience.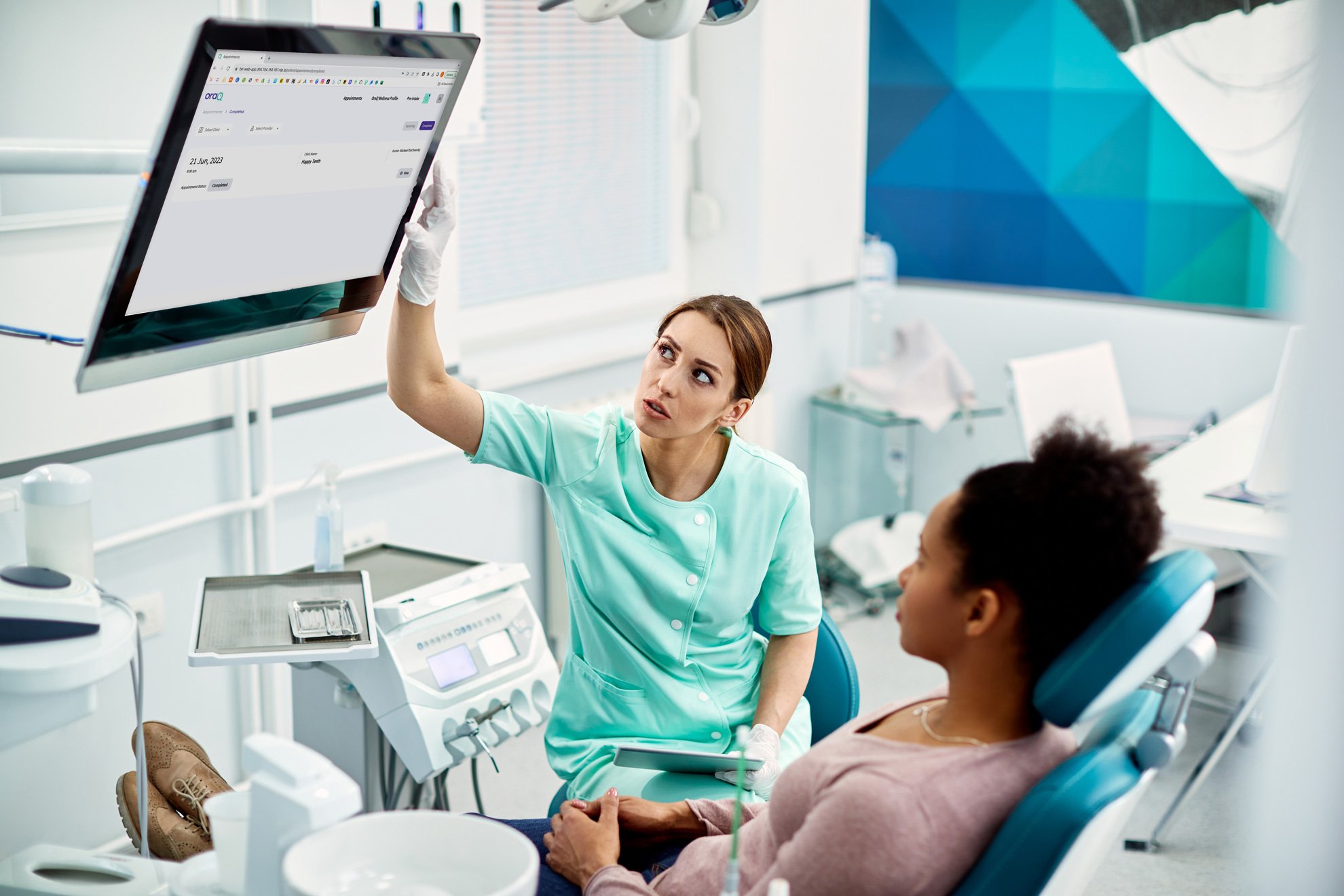 OraQ™

Features
Cloud-Based Software Platform
Subscription Model: Single or Multiple Seats
Compatible with Existing Practice Solutions

(Health History,

Imagery, Radiography & Clinical Examination)

Powered by AI & Machine Learning
Dedicated portals for the dental team, office management team and patients.
The Next Step in Redefining Dentistry - The Technology
Don't confuse OraQ™ with radiographic AI. OraQ™ is a state-of-the-art clinical decision support system that harnesses the analytical power of artificial intelligence (AI) and machine learning (ML) to provide advanced patient assessments and detailed risk profiling in a fraction of the time.
Powered by AI and ML Algorithm
Weighing treatment options? OraQ™ analyzes data from thousands of patients to identify the one with the greatest probability of success.
Evidence-based treatment planning
OraQ™ provides data to back your treatment recommendations – for improved patient buy-in and expanded growth opportunities.
Expanded Treatment Opportunities – Beyond Dentistry
OraQ™ helps diagnose and treat Obstructive Sleep Apnea, Bite Concerns, TMD, Tooth Wear and more.
Patient Portal
Patients can view recommendations and treatment plans in a secure portal. Added awareness and transparency engages patients and increases acceptance.
Cloud-Based
Dentists can access OraQ™ from any device, from any location.
Subscription Model
Scale OraQ™ to your practice: from solo to DSO.
Continual Monitoring
Improves your ability to track progress, measure outcomes and schedule follow-up.
Secure
Conforms to HIPAA and other Federal privacy regulation for securely managing and protecting patient data.
OraQ is approved for use by The FDA and Health Canada and is HIPAA compliant.
Frequently Asked Questions
How does AI improve treatment recommendations?
OraQ™ is a state-of-the-art clinical decision support system that harnesses the analytical power of artificial intelligence (AI) and machine learning. Powered by advanced mathematical formulas and data analysis of outcomes from the thousands of dentists and countless patients in the OraQ™ database, it provides evidence-based patient assessments and detailed risk profiling in real-time.
Do dentists have to follow treatment recommendations?
As the dentist, you still have 100% control to accept or reject diagnostic recommendations as you build your treatment plan. Practice groups and DSOs can set guidelines for implementation across the practice.
Do I need any special hardware?
No. OraQ™ is a cloud-based software platform. It can be seamlessly integrated to work with your existing digital imaging and radiography systems.
How many dentists within my practice/ group can use it?
Can be used by all dental professionals in a practice currently. There is no limit on users or seats in the software.
Is patient data secure?
Patients can only access their own data via the patient portal. All patient data is password protected. OraQ™ employs advanced security measures and meets all Federal, State and Provincial protocols for protecting the data and privacy of patient data.
What does OraQ™ cost?
OraQ™ costs $595 per month.
Do I need to buy a separate license for each dentist using the platform?
No. OraQ™ is conveniently priced so all dentists and office managers within your practice location can use our software. Group practices and DSOs with multiple locations will be required to buy one license per practice location.
Is all functionality included in the subscription price?
Yes. When you subscribe you get all of the features. Unlike other software, you ARE NOT charged extra to unlock premium functionality.
What training/ support is provided?
OraQ™ provides full customer support with onboarding and dental product integration. We also provide in-clinic support to help you get the most out of our software. Clients also have direct access to the OraQ™ development team for additional support including questions about customization.
Can I demo/ test-drive the software?
The OraQ™ sales team is standing by to tailor an online presentation to your practice type. We can present it one-on-one, or to a group of key stakeholders. We are here to answer all of your questions.
Book a Demo and See
OraQ™

in Action