Embrace Collaboration.
Defy Convention.
With

OraQ™

AI Dental Software.
Watch: How OraQ™ is Reimagining Dentistry
Uncover tools, strategies and support that benefit your practice, your patients and your bottom line using OraQ™'s advanced AI dental software.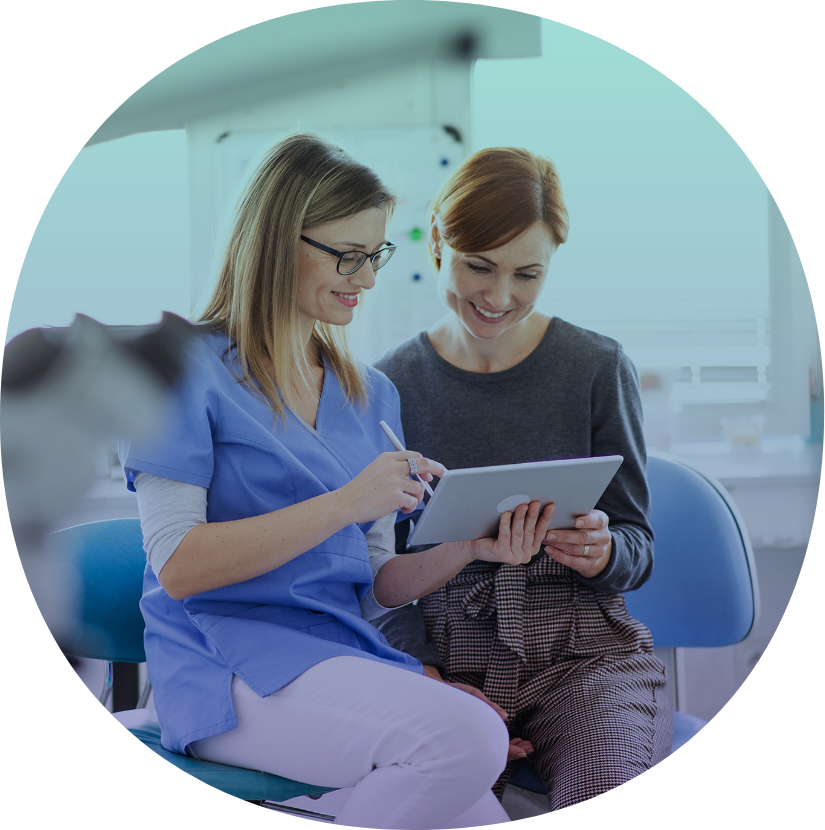 OUR STORY:
Advancing Total Patient Care
OraQ™ is not simply North America's most advanced AI clinical decision support system. It is a philosophy around total patient care.
We are building a community of innovators who are re-imagining and redefining the scope, delivery and impact of dentistry – to make it more rewarding for patients, practices and professionals alike.
Together we will redefine how a visit to the dentist can have long-term health benefits beyond traditional oral health.
OUR MISSION
To empower forward-thinking dental professionals to make the best decisions for their patients and their practices.

Unwavering Commitment
To transform patient health outcomes through a holistic, long-term approach to oral care.

Courage
To overcome adversity and challenge the status quo.

Innovation
Changing traditional thinking by harnessing advancements in technology.
Community-Builders



We're bringing together dentists, patients and stakeholders who share our vision for a new future.

Care



We provide practices with a competitive edge – in their business and their level of patient care.

Transparency



We believe patients should have full visibility of their dental health data, to help them make informed decisions and be active partners in their care.
Technology Leadership
State-of-the-art AI/ML platform to optimize decision-making.
Seamless Practice Integration
An intuitive platform that's easy to adopt in your practice.
Built by Dentists for Dentists
OraQ™ solves the real-world challenges dentists, group practices and DSOs face.
Transparent Patient Engagement
A secure online portal gives patients a more active role in their care.
Evidence-Based Treatment Planning
Draws on an extensive database and modelling tools to assess treatment options.
New Treatment Opportunities
Including Obstructive Sleep Apnea, bite concerns, TMD and tooth wear.
Advanced Analytics
To drive strategies that increase revenue and enhance predictability.
Thought Leadership
A multidisciplinary team of professionals, advisors, developers and support staff.
The
OraQ™

Founders

Creating a collaborative software platform that is reimagining dentistry has taken the combined efforts of a diverse, experienced and talented team.

Together, through a process of understanding, innovation and continuous improvement, we are committed to helping our AI dental software users evolve, lead and excel.
Jocelyn Chan RDA
Business Strategist and Implementation Manager
Edgar Bermudez Ph.D.
OraQ Lead AI/ML Scientist
Alex Ngun BSc., MDS
OraQ Full Stack Developer
Preeti Kartik BDS, MDS
Specialist – Oral Medicine & Maxillofacial Radiography
Dr. Reena Gajjar
DDS, Specialist in Prosthodontics
VP Strategy, Innovation & Development at Abova Technologies – AI/ML clinical development and regulatory advisor
Mike McGuire
Past CTO/COO & President of Stratacor and Abova Technologies – Technology, Dental Insurance and Regulatory Advisor
Dr. Jeremy Krell
DDS, MBA
Managing Director, Revere Partners Oral Health VC – Health/Dental Tech Start-Up Advisor
Neil Bothwell
CA, CPA
Fractional CFO & Advisor
Tom Sides
Partner, Dentons – Legal Advisor
Dan Bergeron
Marketing and Branding Director Partner, Everbrave – Advisor
Get notified on new marketing insights
Be the first to know about new B2B SaaS Marketing insights to build or refine your marketing function with the tools and knowledge of today's industry.